Plan to Achieve
Focus on what's really important to advance your business and achieve your goals.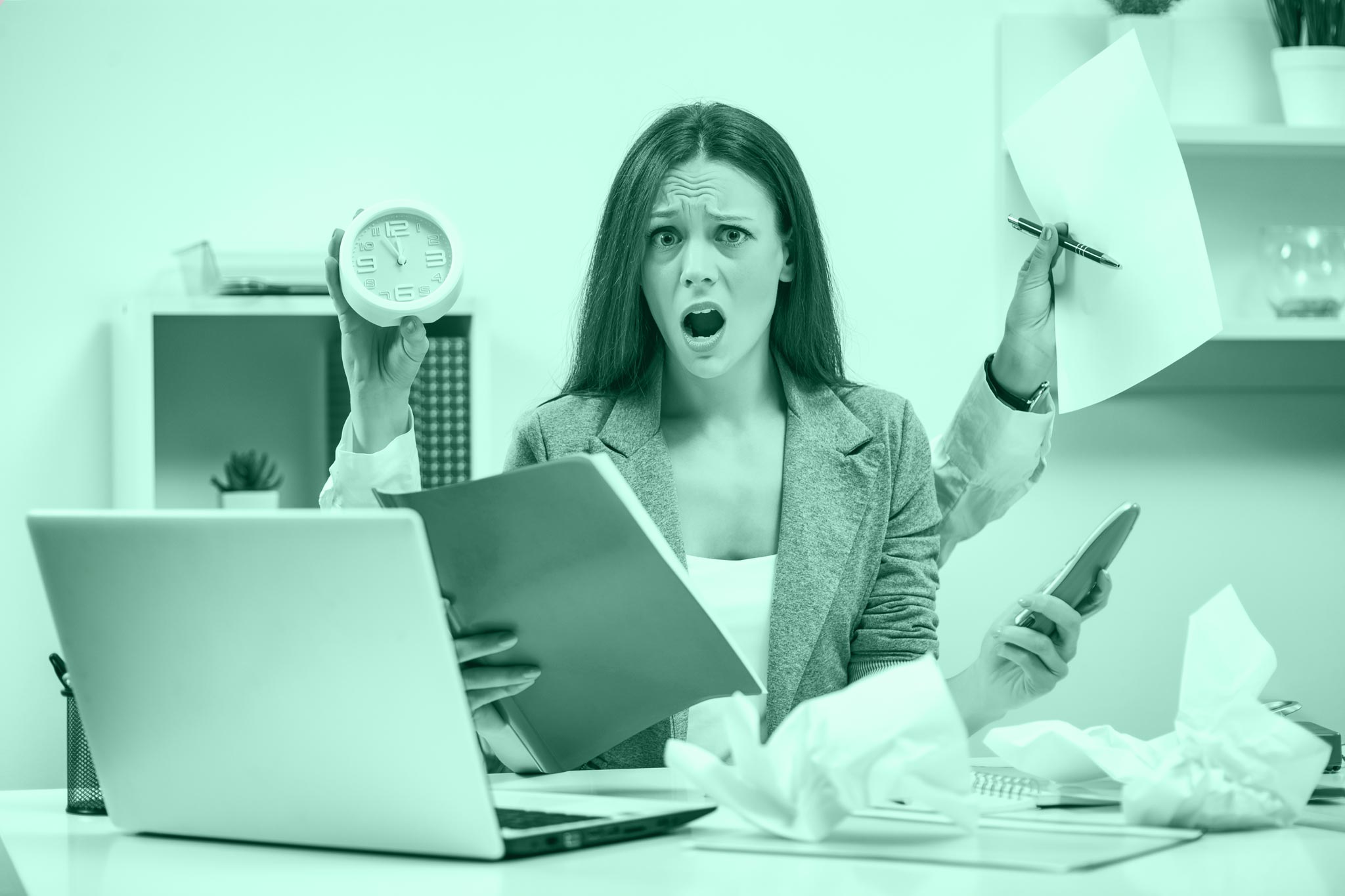 Why on Earth did I Develop This Class?
The last 18 months or so have more than a bit hectic for me. I truly have felt like the woman in the photo above. For much of the year my time was not in my control, which sounds silly considering I'm my own boss. I learned what not to do. I re-learned the beauty of saying No. I read a lot of books, blogs, listened to a few podcasts, and eventually I learned what works really well for me. I finally feel like I'm in a place where I can pass on what I've learned to others struggling to "get it all done", and even more importantly move yourself and your business forward. I developed this business planning class over the last year, testing and tweaking until I'm happy with it, and confident it can help others reach their goals. 
I consumed a lot of good material, and a lot of shallow material. Most of what I read lacked the HOW. It's easy to say set goals XYZ, it's another to show how to actually reach those goals. The real secret lies in choosing the best goals for you and your business.
Who is this for?
The full class is geared for small business owners and solo entrepreneurs who are feeling like they are never getting ahead in their business and failing to accomplish their goals.
The first section includes writing/updating a business plan and a marketing plan. There will be homework and it will involve numbers! There are many good tutorials on doing a one page business plan, we'll be doing an expanded one. If you are groaning already, I promise it's not as hard as it sounds, and the rewards are worth it.
To find your bearing you need to know where you are and where you want to go
This course is not about scheduling, but about achieving. The second part of the class is about setting ambitious but achievable short and long term goals – and actually reaching them! It's written with a bent towards business goals, but the tools and tips apply equally to personal goals, or professional goals even if you aren't the owner.
Because of this I am offering each section individually as well as the entire series.
What makes this different than all the other time management books, blogs, downloads, and apps?
Most of the material I came across were band aids. None of them addressed the root of the problem(s). While many were helpful, to really change, digging to the true causes and fixing them helped me more than all the quick fixes. There is no miracle one size fits all solution to this, we each are different, and have different constraints in our lives. What I will do is give you the tools to explore what your roadblock is, and how to clear it out of your way.
He (or she) who is fixed to a star does not change his (or her) mind.
How is the course structured?
This is an online class. If you're interested enough to sign up, it's probably because you're already super busy and feeling overwhelmed. The last thing you need is yet another weekly appointment. Yes there will be some homework, but with a purpose. I'll also reference books and other resources I found helpful, but they will not be required reading.
You'll receive an email every Monday morning for 10 weeks. Each week will have some homework – the first Section will have more intensive work, but the second Section involves more soul searching. This course is about changes, small and large. There will be a private forum to ask questions and share experiences, and those that buy Section 1 (or the whole course) can also schedule a 30 minute video call with me to ask more detailed questions, or just have an objective sounding board.
Section 1:
Week 1 – What is your Why, Who, What, Where and How?
Week 2 – Ideal Customer Profiles
Week 3 – Profit & Loss Statement
Week 4 – Business Plan – beyond the 1 page
Week 5 – Marketing Plan
Section 2:
Week 5 – Picking the Right Goal
Week 6 – Achievement Plan
Week 7 – Stay on Target
Week 8 – Procrastination
Week 9 – Evaluate and Adjust
Week 10- Wrap up and Review
The first email will go out on Monday December 2, 2019 but you may sign up at any time. You'll receive your first class the Monday after your signup date. For example if you sign up on Jan 1, you'll get the first class on Jan 6.