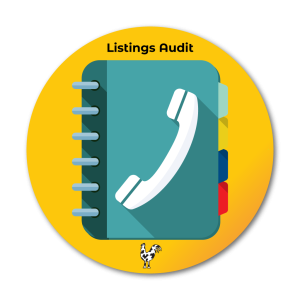 Maintaining business information online is tedious and time consuming. Our Business Listings Management service makes sure your customers go to the correct address.
Listings Audit
These days there are so many places to list your business online. From Social Media, Review Sites, Directories and more. While they can all be valuable and helpful for clients to find you, it can be hard to remember to update all of them when you change locations. To make matters worse, some listings can be created by others reviewing you. How do you keep track of them all?
Why do I need to do this?
Having accurate and consistent contact information will help you boost your Search Ranking. If all of your addresses are different, spelling of your name inconsistent, Google and the others cannot be sure if it is the same business. Name, Address, Phone (NAP) consistency is key to increasing your brand recognition and ways you can be found on the web. Plus if you've moved - chances are you forgot a listing somewhere. I've done that myself, there are so many to remember.
Don't risk losing a customer because they went to the wrong address.
You can manually keep a check list, or you can have someone else do that for you.
How do I sign up?
Checkout on the website.
You'll receive a short form to input your NAP (Name, Address, Phone)
Within 1 business day, your report will be emailed to you.
We offer a couple of options to fit your budget, time and desire for control over your accounts.
The first is a one time report.
The second is a quarterly audit report - good for making sure that changes are processed and stay correct.
Lastly, if you do not have the time to update yourself, I can do that for you. The initial audit report will be provided, along with instructions on how to authorize edit permissions on the sites you wish to monitor. If you opt for the one time or quarterly report initially, then decide you don't want to deal with it, your initial purchase will be credited toward the managed plan.