How to Share a Facebook Post from your Profile
Facebook Sharing Part 1 of 4
This is Part 1 of a 4 Part guide to helping your Business or Organization's fans share your events and posts on Facebook. In the first 2 parts we'll be looking at how to share posts and invite to events from their Personal Page on Facebook. The 3rd and 4th parts will be how to share from a Business Page. They're similar, but not exactly the same.
I'm creating this guide with images from Facebook on a desktop browser, but there are similar buttons for the same functions on the mobile apps and mobile web page. There's a good chance they are in different locations, but the names and functions are the same.
Like the Page
Chances are you already do, otherwise you wouldn't know to share. But perhaps the organization sent you an email link, you saw it on another Social Media site, or maybe a friend told you about it.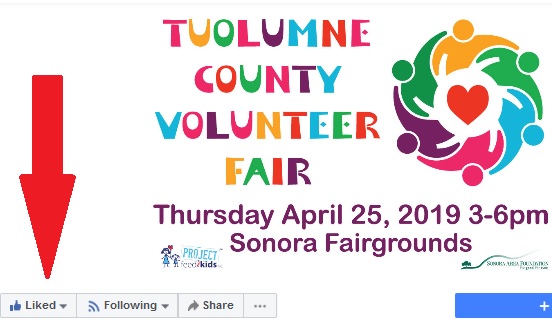 If you aren't familiar with Facebook, there's 3 ways to share "stuff" from a Page – you can share their Page profile, a Post or an Event they created. The last two are the most important for spreading news of something specific. Sharing their profile is great if you just like the organization and want to tell people how great they were to work with.
Share a POST.
This is great for sharing a specific post about an event, announcement, etc.

Clicking on the Share Button will bring up this menu: a number of choices about how to Share:
While all have their uses, for this purpose Share… is the most relevant.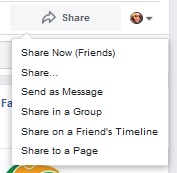 Clicking on the Share.. (2nd option) will bring up this popup. If you click on where it says "Say something about this… (1)" you can type your own comment to go with the original post. Are you a part of this event? Great tell your friends why – did you go last year and learn about a New to You Non-Profit that shares your same passion for helping others? Great!
The box next to #2 allows you to choose you can see your post. It usually defaults to whatever you chose last. Most people either choose Public or Friends. Public is best for reaching the widest possible audience.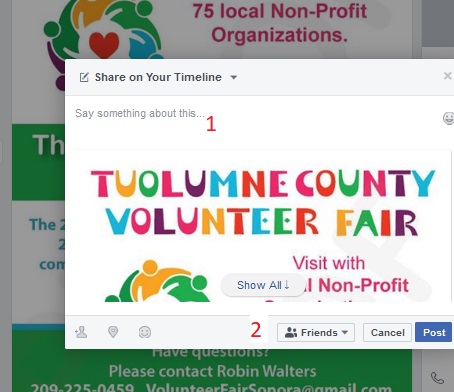 When you are happy with what you have written and who you're sharing it with, just click post!
Continue on to Part 2 – sharing an Event from your Profile. 
If you found this post useful please consider subscribing at right – and/or share this with others that may find it helpful.