Google Suite for Small Businesses
I started off writing this a couple of weeks ago, and the world has changed since then. But a service like GSuite is even more valuable to small businesses now.
Originally this was to be a post about the importance of backing up your data – that's still super important! One of the critical differences between the Consumer and Pro version of Google is the Pro (GSuite) allows you to recover deleted emails and files within 25 days of emptying the trash. The Consumer version has no grace period. If you empty the trash, it's gone for good.
Fast forward to today's world where many business are trying to work with employees at home and still share and access information, documents and meet with each other and clients. Google Drive lets you share documents real time without having to email, upload to DropBox, download from DropBox, manage changes, having multiple versions emailed around from team member to team member. Google Meet is a quick and easy way to video conference with employees and clients (up to 100). YouTube under a business account also has many features for live and recorded videos, training, private sharing, public sharing, and more.
GSuite has many options, more than most businesses will use, but there are 6 that I feel are the most important.
Email – Not only email, but email personalized to your domain, comes with great spam filters, and can be easily customized with rules to auto sort into folders and other options.
Google Meet – Meet is a simple to use Video Conferencing tool that is included with G Suite. It's not only easy for you to use, but easy for clients and colleagues. They do not need to install anything on their computer to join in, and just an easy app install to use on a mobile device. Up to 100 guests can join.
Shared Documents – With Drive, when a file is updated, it's instantly updated for everyone with access. While you do want to be mindful of editing permissions, this is helpful not only for when everyone is in the same office, but even more important when employees are working from home. Instead of emailing the same file to a team over and over and having multiple copies flying around and creating confusion, you have one live, editable document that team members can view at any time.
Storage & Backup – with consumer Google accounts, when you delete email or files and empty the garbage, it's gone forever. But with GSuite, even if a user empties their trash, you have a grace period to recover it. That's a nice security blanket when working with business documents.
Security – You can assign permissions to employees based on their job function. Depending on your business and the nature of the information, you can also limit what, if any mobile device or computer employees sign in on. You can also require all or certain users to use 2FA (2 Factor Authentication) for improved security.
Reporting – This isn't useful for solopreneurs, unless you suspect your account has been hacked and you want to look for unusual activity. But for organizations with employees you can get an feel for activity, security, and other information.
One thing I really appreciate about GSuite is the ability to scale. You only pay for how many users you have. As your business grows or shrinks, so does your cost. And it's a very low cost – starting at just $6/month/user.
Are you a 501(c)(3) Non-Profit? Once you go through a vetting process, GSuite is absolutely free to you and all of your team members. FREE.
Do you have questions or want to see a quick demo? Pick a time here for a free demo.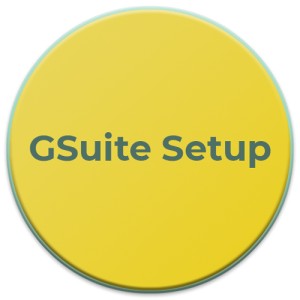 I'm offering a 20% discount on my setup service through the end of April. I'll extend that if we're all still working from home after that.
(US & Canadian Customers only)